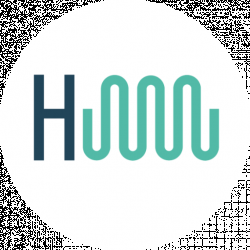 Latest posts by HomeWater Works Team
(see all)
Gone are the days when pit latrines were the order of the day. The world's population has grown, and many people now prefer to have flush toilets in their homes. One of the benefits of a flush toilet is that it is convenient and comfortable to use, especially for those with elongated seats.
Regardless of their comfort, toilets with elongated bowls are more space-consuming than those with round bowls. Therefore, you have to ensure the room where you intend to install this toilet is spacious. 
In today's market, manufacturers offer elongated toilets in different designs, colors, and prices to accommodate a broader range of prospective buyers. Therefore, it might be overwhelming for you when shopping for this household item that will fully satisfy your needs.
I came up with the best six elongated toilets that you can choose from in the market today. However, let us first look at the considerations you need to make to get the right elongated toilet for your home. 
Factors to Consider when Buying an Elongated Toilet
Human beings have varying tastes, preferences, financial capabilities, and needs for different products in the market. The thumb rule to remember always is the product that fascinates and excites you may not have the same effect on your neighbor. Therefore, to get the right elongated toilet, you need to put these factors into consideration:
Type of the toilet
A toilet is either one-piece or two-piece depending on its structure. Two-piece toilets are the most common, but you will surely come across a few one-piece units as you conduct your shopping.
The main difference between these types is, unlike one-piece units, two-piece toilets have separate bowls and tanks, which are joined during their installation. Such loos are easy to install and cost less, but cleaning them is not easy due to the crevices that are not found in one-piece toilets. One-piece toilets cost more, and their installation requires professional services. 
Your bathroom's size
We pointed out earlier that elongated toilets consume more space than those with a round bowl. Before stepping out to the market, you must have the exact dimensions of the room and the position you want to install your toilet. You will also need to find 'Rough-in', especially if you are buying a new toilet to replace one that was there before.
Rough-in is measured by getting the distance between the wall and the center of the rear bolt that holds the toilet in position. The majority of bathrooms today have a 12-inch rough-in, but you can find 10 or 14-inch rough-in in older homes. If your bathroom size is not that large, you can check out a tankless toilet. 
Noise
In most homes today, some different appliances and gadgets produce a lot of noise. If your home is such a type, then I am sure you would not want to aggravate that situation by getting a noisy toilet. Toilets produce noise when refilling the tanks, and most especially when the user flushes them.
'Quiet Flush' is a feature you will find in toilets that work silently, without announcing to everyone that you just made a 'deposit'. You can also check out different customer reviews to see if they are any noise complaints about the unit that you want to purchase. 
Installation
There are three ways that your newly acquired loo will be installed in your bathroom. Floor mounting is the most prevalent way, where the toilet is mounted on the bathroom's floor using bolts. Wall mounting is another way, but it is not so common. This type of mounting offers a clean and modern look in your bathroom, and it involves attaching the toilet to the wall above the ground.
However, regardless of wall mounting being a space-saver, such toilets are expensive, and the installation process is quite technical. Finally, freestanding toilets do sit on the ground, but unlike floor mounting, they are not attached to the ground. Unfortunately, you will not find a lot of freestanding toilets in the market today.
Price
Your budget is different from that of other prospective buyers. Therefore, you must ensure that you have a set budget to guide you on how much you are willing to spend on an elongated toilet. The price of a toilet is determined by its features, the technology used, durability, and make.
Cheap loos are often the standard two-piece units that will work fine for the first few days but do not have much to offer in terms of comfort, features, and durability. If you are yearning for a more comfortable and durable toilet with impeccable features, such as heated seats and built-in lights, then be prepared to part with a few thousands of dollars. 
Gallons per Flush
Gallons per Flush (GPF) is a serious factor to look into, considering that there is a water problem in most places. Additionally, if you get an elongated toilet that consumes a lot of water, then your bills will skyrocket within no time. Toilets that use 1.6 gallons of water per flush are standard, but you can find many more models that use less than that.
When you go shopping, ensure you check out those that have a WaterSense label. The label shows that the toilet has been tested and approved as a water-efficient unit.  
Strength of the flush
Many people, including you, want a toilet that can get the work done every time. Furthermore, what is the point of getting a water-saving toilet if you will have to flush it several times for it to send your waste down the drain? Dual flush toilets are the best choice because they give you two options: light or powerful flush.
Besides sending the waste away every time, using the powerful flush saves you water and ensures that your toilet does not clog easily. If you want an elongated toilet that will not let you down, then consider the flushing power of the unit you desire. 
Color and Design
Buying a toilet that is compatible and complementary to your interior design is essential, especially if you want to remodel your bathroom. Save some time and money to research among all the available options. Today, elongated toilets come in hundreds, if not thousands, of colors and designs. You can be sure that you will land on one that rhymes with your preferences and matches your interior décor. 
Six Best Elongated Toilets
TOTO MS854114S#01 Ultramax
If you have enough space in your bathroom, this is among the best toilets you can get in the market. This unique product from the TOTO brand features a 12-inch Rough-in, making it ideal for most of today's homes. Consuming just 1/6 gallons per flush or 6 liters per flush makes this product water-efficient, which will significantly cut on your water bill.
One of the most outstanding features of this elongated toilet is the SoftClose hinge system, which ensures that the lid does not slam on the bowl. It would be very shameful if the lid landed loudly on the bowl, announcing to everyone that you are done with your business. 
This is a toilet that pushes your waste away in a single flush, thanks to the 3-inch G-Max flush valve and the 2 1/8- inch smooth trap-way. The two features work together to ensure that the water flow increases, the water is driven into the bowl faster, and the flush is powerful. With such functions, you can relax and be sure that your toilet will not clog anytime soon.
The flush is quiet on this toilet, which helps in minimizing noise in your house. The comfortable and ergonomically designed seat includes Molded Bumpers and High Gross Propylene, which is resistant to detergents and chemicals. 
This smart seat is designed and built using high-impact plastic to reduce injury risk and eradicate the 'toilet seat slam' noise. The installation process is not complicated because it entails top tightening bolts.
Therefore, you can decide to DIY the installation, or if you have no time for it, you can hire a professional. TOTO MS854114S#01 Ultramax is a two-piece toilet, which means that the tank and the bowl are brought in as separate parts and joined during installation. The main issue with two-piece toilets is that they are not easy to clean because of the crevices.
Pros
Easy to install

Smart seat technology

More comfortable

Water-efficient

Affordable
Cons
Hard to clean

Requires a large space
American Standard 2034.014.020 Champion 4
You must go when it's time to go, and this toilet is one of the best products to help you answer the calls of nature. This one-piece elongated toilet is referred to as Champion because it can comfortably push 70% more waste than the standard toilets. Moreover, this loo has double the speed of forcing water into the bowl, courtesy of its 4-inch piston accelerator.
This toilet stays clean and is water-efficient because it needs only 1.6 gallons per flush. You can now say goodbye to high water bills and an unclean toilet. Champion 4 boasts of the largest trap way in the industry, which measures 2 3/8 inches, is wide open, and glazed.
This feature allows the toilet to effortlessly push 40% more mass than a standard 2 1/8-inch trap way and 70% more mass than a 2-inch trap way. 
Cleaning a one-piece toilet is generally straightforward, but cleaning Champion 4 is even easier, thanks to the EverClean antimicrobial surface on both the inside and outside.
The EverClean surface eliminates your worry about the growth of bacteria, mold, and mildew that cause stains and nasty smells. The toilet's 12-inch Rough-in means that it can be installed in a standard bathroom without consuming a lot of space.
The thing that will surprise you is that American Standard offers a 10-year warranty for this unit. This shows how confident the company is in the quality, durability, and performance of this toilet. 
With its right height, this toilet can be used comfortably by everyone, including seniors and those with mobility issues. This excellent product from the American Standard brand measures 29-3/4-Inch by 17-3/4-Inch by 29-1/2-Inch in length, width, and height, respectively. Some of this toilet's downsides are that it might be expensive for some customers, and the seat is sold separately.
Additionally, it can be difficult for small children to use the toilet, considering it is 29 ½ inches in height. However, if your budget allows it, then this one-piece elongated toilet is among the best of its kind today.
Pros
A very wide trap way

Water-efficient

Easy to clean

A 10-year warranty

Comfortable

EverClean surface prevents the growth of bacterial, mildew, and mold
Cons
Expensive

The seat is sold separately

Lacks the SoftClose hinge system
If you are a person who hates cleaning the absurd areas around the toilet's bowl and lid, this product was made for you. The skirt included in the toilet's design reduces the cleaning process and makes the unit aesthetically attractive. Since this is a one-piece toilet, it is shipped fully assembled, and its seat is even preinstalled.
Once you receive your package, a manual is included to make the installation process simple for you. Those night visits to the toilet will not disturb other people anymore because this unit's flushing system is quiet, smooth, and powerful. 
Weighing 151 pounds and measuring 28.5L x 14.5W x 23H inches, you can be sure that this unit will fit in a standard bathroom. Unlike other toilets, this unit lacks corners and grooves, making it very easy to reach all the spots when cleaning it. The toilet's SoftClose seat features stainless steel hinges, which are durable and hard to get any damages.
The flushing system is glazed to minimize noise and ensure a powerful flush with no leaks or clogs. According to research, we spend some significant time in the toilet, and it should be as comfortable as possible.
WOODBRIDGE T-0018/B-0735 Dual Flush Elongated One Piece Toilet

WOODBRIDGE T-0018/B-0735 elongated toilet offers maximum comfort with a sleek design complemented by impeccable features and styles. The toilet bears the WaterSense label, which implies that it is approved as a water-efficient home appliance. This feature is emphasized by the toilet's capability to use only 1.28 gallons per flush, which is more economical than the 1.6 gallons toilets.
The unit also features Comfort Height, making it easy for most adults to sit on and stand up from the toilet without any issues. You should note that this one-piece toilet costs a little more, but if it is within your budget, you will not regret buying it. 
Pros
Easy to clean

Installation manual included

Super-powerful flushing system

WaterSense verified

Comfortable 

Soft Closing seat
Cons
The skirt design may not please everyone

Expensive

Some have found the installation process difficult
KOHLER K-3817-0 Memoirs Stately Comfort Height Two-Piece Elongated Toilet
As you search for a toilet, I am confident that you want an affordable, stylish, and powerful unit. Look no further because this product from the Kohler brand is among the best of its kind in the market today. The toilet uses 1.28 gallons of water per flush, saving about 16,500 gallons per year.
With such extreme water-efficiency, you will realize that even your water bills will drop significantly. The unit is designed to rhyme with almost all interior décors, thanks to its elegant architectural appearance and an array of colors.
You will find this toilet in four main colors: Biscuit, Black, White, and Ice Gray, which you can select from depending on how your bathroom appears. Since this is a two-piece toilet, you don't have to bother contacting a professional because the installation process is relatively straightforward. This toilet's installation technique is floor mounting by using bolts to fasten the unit to the ground.
If you have seniors or people with mobility problems living in your house, you don't have to worry about how they will use the toilet. This unit features Comfort Height which offers chair-height for easy sitting on and standing up from the toilet with little or no hassle. 
With this loo, I can be confident that your plunger will be rendered obsolete and needless. That is because the toilet's canister flush valve is so powerful that it eliminates any clogs in one flush using as little water as possible. If you have enough room in your bathroom, this elongated toilet will surely be a fantastic choice for you.
However, you will have to buy the toilet seat and supply line separately since they are not included in the package. Additionally, two-piece toilets like this one present a cleaning issue because of the available crevices.
Pros
Easy to install

Affordable

Comfortable

Water-efficient

Reduced clogging instances
Cons
Seat and supply line bought separately

Cleaning the toilet may be tough
TOTO CST244EF#01 Entrada
TOTO Entrada is a company that has cultivated a positive reputation in today's market through its outstanding products. This elongated toilet from this brand makes it to our list because it is among the best of its kind. First, the E-Max flushing technology is a game-changer when it comes to saving water and preventing your toilet from clogging.
The toilet uses 1.28 gallons per flush, which translates to about 16500 gallons saved every year. With its Universal Height, this unit is fit for use by all adults, including seniors and those with mobility issues. However, little kids may require a step stool to comfortably access the toilet. 
The toilet's flush valve is 3 inches wide, which is enough for a consistent, quick, and powerful flush. The trap way measures 2 1/8 inches, and it is glazed to ensure that waste slides all the way through without getting stuck. Such success in total removal of waste is also promoted by the toilet's extra-large siphon jet, which uses a lot of force to pull the waste away instantly.
With the E-Max technology, the flush is quieter than in other models, which comes in handy when you have visitors or during those night trips to the loo. The 12-inch Rough-in is convenient, and it means that this toilet can be installed in a standard bathroom and still leave enough space.
The SoftClose seat is another feature that ensures your toilet functions quietly. This feature's primary purpose is to prevent the lid from slamming on the bowl and reduce injury risk. For the assurance of the toilet's efficiency, it is approved by WaterSense, ADA, CEC, and CALGreen.
One of this unit's demerits is that you have to purchase the seat separately as it is not included in the package. This two-piece toilet is easy to install, and you can do it without necessarily contacting a technician.
Pros
Universal height for comfort

Powerful, consistent, and quick flush

SoftClose seat 

E-Max quiet flushing system

Water-efficient
Cons
Not easy to clean

Seat bought separately

Challenging to use by little kids
TOTO CST744SL#01 Drake 2-Piece Elongated Toilet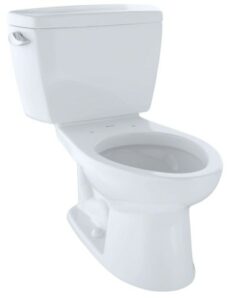 When we talk about elegance and beauty meeting performance, we refer to this excellent product from the TOTO brand. Made of Vitreous China material, this two-piece toilet is not only attractive but also long-lasting. The elongated bowl offers more space and comfort to the toilet users, who include people with physical disabilities.
This unit features a G-Max flushing system, which consumes about 1.6 gallons or 6 liters of water per flush. Like E-Max, the G-Max flushing system is also very powerful and operates with little to no noise. 
A 12-inch Rough-in and its dimensions of 28Lx 19.5Wx 30.5H inches mean that this toilet can conveniently fit in a standard bathroom. The two-piece design and a high-profile tank make the installation process a walk in the park. The toilet also features a wide 3-inch flush valve, which is 125% bigger than the conventional 2-inch valves. 
TOTO maintained the quality and innovation in this toilet's production while remaining compliant with the Americans with Disabilities Act (ADA). Therefore, regardless of an individual's physical state, they can use this unit without any adjustments or specialization.
The toilet is available in an array of colors to make it rhyme with any interior décor. The quiet G-Max flushing system runs quietly, which means that the toilet does not produce a lot of noise. Therefore, you can conveniently use this product comfortably, even during the night, without disturbing other people.
Two-piece toilets like this one are affordable, and they can be used in both commercial and residential applications. However, due to the presence of crevices, it might be hard to reach all the spots during cleaning. 
Pros
Powerful G-Max flushing system

Aesthetically designed

Water-efficient

ADA compliant

Easy to install

Affordable
Cons
Hard to clean

Universal Height is too high for little kids
FAQs
Question: Are Karran Undermount Sinks A Good Choice?
Answer: The best winner in the countertop sinks cleanup is the under-mount sink. The ease of cleaning and maintenance is a selling point of the sinks. Since they have no lip that may form an obstruction around the sink, it's easy to sweep food particles off the counter into the sink.
Question: How Do I Clean My Karran Quartz Sink?
Answer: You should use an abrasive cleaner and a soft pad for scoring. You may also use a  diluted bleach solution whereby you mix 1 part bleach with 1 part water and then let it soak in the sink for an hour. After the soaking, drain, rinse, and dry the sink.
Question: How Do I Clean My Karran Stainless Steel Sink?
Answer: Many cleaning materials work well with stainless steel sinks. All you require is a dishrag and a liquid soap.  You should not use abrasive or acidic cleaners on them. Ensure you stick to soap and water instead. 
Question: Which Are the Different Types of Materials for Karran Sinks?
Answer: Acrylic Sinks -Karran sinks are made of different materials, where each material is best depending on your preference. Some of the sinks designed from materials are: Karran sinks made of acrylic have a unique solid surface sink.
Not only are they installed on stone countertops under and solid surface materials, but they can also be under-mounted seamlessly to a laminate countertop.  The sinks are a complement to your house.  These sinks can withstand the pressure of daily use. It is guaranteed not to crack from thermal-shock or stain.
• Edge Stainless Steel Sinks- A unique design came to replace the traditional rim for sinks. You no longer need a reveal, a rim, or an overhand in your sink installations.  Edge stainless steel is crafted from high-quality Type 304 steel and has a brushed satin finish.
• Karran Quartz Series Sinks- Sinks made of quartz are crafted to standards for durability and quality.  Made from quartz, premium acrylic resins, and natural granite, quartz sinks are elegant and extraordinarily tough.  They are heat, scratch, and chip resistant and come in four different colors. The sinks also have two designs, under-mount, and top-mount styles.
Conclusion
Toilets with elongated bowls are the most common today, both in residential and commercial settings. That is because they offer more comfort to the users. The majority of them are also water-efficient, which means that they help save thousands of water gallons every year.
From our list above, I can say that the best toilet is KOHLER K-3817-0 Memoirs. Kohler is a brand that is known for producing high-quality items, and this toilet is no exception.
Besides having a comfortable elongated bowl, this unit is also easy to install, thanks to its two-piece design. With water consumption of 1.28 GPF, you can be sure that this toilet will save you a lot on the water bills. It is also available in different colors, including black, biscuit, ice grey, and white, to match any interior décor.
Therefore, you can never run out of options with this product. The icing on the cake is that it is available at a very pocket-friendly price. Grab your today and transform your bathroom.