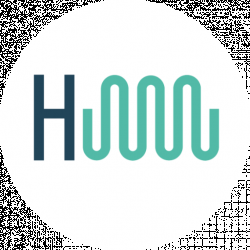 Latest posts by HomeWater Works Team
(see all)
It has been a while now since we started to receive numerous endless strings of worth answering questions. That's when we realized people are opting for headless tanks and are considerably dumping water heaters with tanks for reasons well known to them. Are you one of these people? Most probably, you are. You are now smiling because my guess is right. Well, this is why you are looking for the Noritz Tankless water heater review.
While the name might not sound familiar to every other person in the street, for the fun and users of the tankless water heaters, their hearts skip a beat whenever the word Noritz crosses their mind.
Noritz Company has existed for several years and produced a wide range of products serving the better part of the marketing while saving you some money. 
This article shall be reviewing popular Noritz tankless water heaters, focusing on each model's features, pros, and cons. This will take you a long way in helping you get the whole idea of what you will be buying.
But just before then, it would be better if I tell you what to consider when buying any of the Noritz tankless water heaters. 
How to choose the best Noritz tankless water heater
 Many are pleased with the benefits of tankless water heaters, among other goodies that come with the products, without minding the vast investments on the same. Some end up with the wrong model and finding the right one is proved a daunting task, especially when we consider efficiency, effectiveness, and money savings.  Avoid unpleasant happenings linked with the wrong model chosen by following the below factors for the right choice.
Natural gas or propane
 Noritz tankless water heaters use either natural gas or propane to run. This should be the first question to ask. Will I be able to access the gas? 
Depending on where you live, natural gas is often found in metropolitan areas, while propane is located in aerial places. When you consider tankless water heaters, propane is the best option for efficiency since it is 88%, while natural gas is just 82% in the NR98 mid-efficiency series. In the NR83 series, natural gas efficiency is 85 %, while propane is 72% efficient. The efficiency is the same in all other models for natural gas and liquid propane.
Wi-Fi
Noritz Company does not build its tankless water heaters with inbuilt Wi-Fi equipment. Preferably they are made to use an adaptor and the Noritz app.
Effectiveness of the tankless water heaters
 Traditional water heaters are made to heat water as best as tankless water heaters but are not as efficient and timely as tankless water heaters. They are more efficient in heating water with plus or minus two degrees in a lesser time. Additionally, a tankless water heater can have multiple fixtures easily, but you may be forced to make various purchases considering the ratio of water to fixtures. 
We recommend installing your Noritz with the help of their professionals and enjoy the possibility of reducing hassles related to heat, temperature changes.
What you can afford
When you buy tankless water heaters, you tend to save a lot in the long but pay more upfront than traditional tanks. Also, consider your ability to connect multiple units if you decide to have numerous tankless water heaters, which would help you meet the heating demands when need be.
Need to water recirculation 
 When buying a tankless water heater, it would help if you consider any need to circulate water. If you found that you would need to have one, we recommend a tankless water heater like NRCP or the heaters' combi line because both come with in-built circulating systems. The tankless water heaters will cost you more and require the contractor to commit much of their time attaching the recirculation system.
Durability
Another significant factor to consider when buying a tankless water heater is how the product lasts. It should be that product with less waste going to landfilling than the tank type, and the unit should also be smaller, durable, and long-lasting and with a high percentage of recyclable material. With every part of the heater being replicable, there is no need to replace the whole unit in case of any malfunction; replacing the spoilt part is more than enough.
Readiness for a change
 After examining all the other points, it is also essential to make sure you are ready for a change. Readiness for a change can be talked of in different forms. Of course, a new system will mean some adjustment period for users. Despite all these changes, it is always good considering the benefits that come with it. Adopting tankless water heaters means a lower energy bill at the end of the day, which can't be overlooked. 
Common Noritz Tankless Water Heaters 
NORITZ NRC66DV 
The NORITZ NRC66DV tankless water heater is fully condensed with an advanced heat exchanger made and a built-in controller. It can deliver the highest rate in its category with a flow rate of up to 6.5 gallons of water per minute, and you can vent it using  3″ schedule 40/8 PVC, PP, or CPVC. 
NORITZ NRC66DV is also made with adapters and termination purposely to allow a wide range of venting options. The designer will ship it for you with a 6″ power cord and then buy the IK-WV-200-1-XX-LF valve kit separately. However, some other everyday companion items include rain cap, atmospheric equipment, and horizontal termination. 
Pros
Highly efficient

Comes with vents with schedule 40 PV

Offers endless water

Consistent digitally regulated output temperature

Comes with a thorough, logical, and easy to implement a set of instructions 

Inside front cover documentation

Small footprint 

Made with precise and dependable engineering
Cons
Coldwater sandwich, however, this is something familiar with all the tankless heaters.
Noritz NRC98-NG tankless water heater
Noritz NRC98-NG is a tankless water heater with an excellent flow rate and a unique system for condensing. The product will provide you with robust full house coverage while changing your natural gas heating units' perspective. 
It will be better to understand how natural gas works for you to get what's special about it. 
The average natural gas tankless water heater is powered through a live frame, warming up the internal coils referred to as the heat exchangers. Coldwater is cycled through coils and ends up warm since the frame warms the coils. But with this system, there is one downside to it. It emits fume due to the live flame.
Pros
Hood to louver option

3" or 5" CPVC venting options

Value for money

Efficient and effective

High quality

Durable and long-lasting 

Saves on time
Cons
Not available for Canadian residents 

Expensive
NRC1111-DV-NG Direct
The Noritz NRC1111-DV-NG Direct tankless water heater is relatively lighter, with it weighing only 7.5 pounds. This product's installation process is more straightforward, which can take roughly four minutes, and you can install it in any corner of your room.
It has a high flow rate, and it is advantageous when you intend to have multiple facets. The flow rate is approximately 11 GPM, making it ideal for a home using 5-6 taps of water and gives you access to install endless hot water.
One reason we like the product is energy efficiency. It works with EUF of 0.90 together with a gas consumption of 199900 BTU making it great for working. It also has a remote thermostat characteristic, which is an advantage to the users. It is a tankless water heater with a default temperature of 120 degrees Fahrenheit, Adjustable with five-degree intervals.
Pros
Strong body

Lightweight design

Sustainable strength
Cons
Not suitable for outdoor purpose

Easier installation process
Noritz NRC98DVNG tankless water heater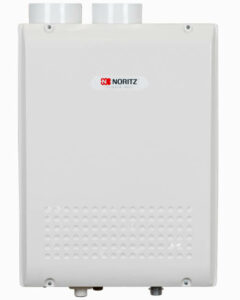 Noritz made a tankless water heater deemed top-notch safe following its remarkable feature making the product great for use at any time. The product comes with overheat protection together with a freeze protection device usable in all weather.
Additionally, this tankless water heater also has a remote controller, a helpful feature since it requires a lot of effort to adjust the heater's temperature manually. Noritz, the designer, decided to offer customers another reason to prefer the product by making it compatible. However, it has a large space in the internal components, but the overall design compact can't go unnoticed.
The product's efficiency rating is high with an energy factor reading of 0.91 and a capacity of gas consumption being around 180000 BTU that is also great.
Pros
Built purposely for efficiency

The safe product when in use

Comes with a remote controller
Cons
Noritz EZ111 DVNG Easy Series
The Noritz EZ111 DVNG Easy Series is a tankless water heater manufactured with the highest productivity characteristic when compared to other products. It is designed with a flow rate of 11.1 GPM, which is always high when producing hot water.
On comparing the other tankless water heaters' energy factor with this one, this one is high where it consumes 199900 BTU and works with a UEF of almost 0.96, which we assume is relatively high, but generally, it can work fast. 
We can't deny the fact that it is significant in size, but together with the size, it is still easy to install and save space following its compatible design. Apart from being big, it is also sturdy and relatively more massive as it weighs 81 pounds. 
Manufacturers want to build trust in you as their customer. For this reason, you are given a 25 years warranty on the heating elements to ensure that they get a long working life with the product; this assures you of the high quality of the product.
Pros
Highly efficiency

Significant and length warranty period

Comes with a remote thermostat
Cons
Power cord relatively short
Noritz NRC71DVNG water Heater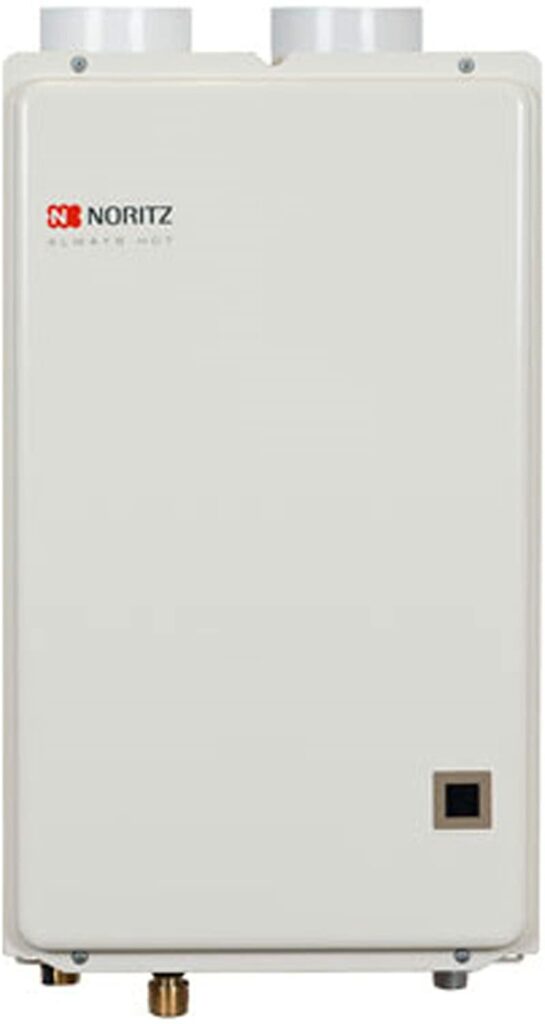 The Noritz NRC71DVNG water Heater is prone to a high flow rate of approximately 7.1 GPM that is conclusively higher when producing hot water. 
 The tankless water heater is made with a natural gas fuel with reduction technology specifically meant to reduce the NOx emissions from the body, which gives accurate results and creates an environment-friendly product usable for a long time.
When we consider the product's efficiency, its gas consumption rate is 157 BTU units, quite decent in mid-range products with 0.89 making it worth a purchase because you can use the tankless water heater model for hours.
An additional feature worth considering is the adjustable thermostat with a default temperature set at 120 degrees Fahrenheit, and the weather being flexible with intervals of five degrees.
Pros
High level of efficiency

Compact design that saves space

Low NOx
 Cons
Comes with a shorter plug
Noritz NR660DLP outdoor water heater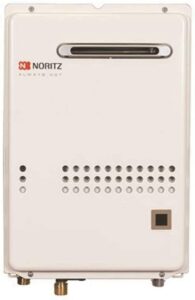 It is a high-star rating product when it comes to regular performance. It has some useful features to low electricity consumption, with the fuel consumption rating at 14000 BTU. The energy factor of the tankless water heater is around 0.81, and it's a decent one. However, during low consumption, the energy factor rises, making the most effective for the chilly weather. 
It is simple to install and will save you space as it is compact with a wall mounting feature making it an even better product for you. The Noritz NR660DLP Outdoor water heater comes with a warranty period of twelve years on the eating element with a possibility of getting a five-year warranty option on the internal components.
Pros
Can produce endless hot water

The best for outdoor applications

Highly efficient
Cons
Not recommendable for outdoor uses
FAQs
Question: Is Noritz the right water heater? 
Answer: Yes, Noritz is one of the best manufacturers of tankless water heaters. It invented their modern electrical tankless water heater in the year 1981. Since then, the company has continually produced high-quality units that are pocket friendly for the average users, including some of the most energy-efficient models on the market.
Question: Do I need to flush my tankless water heater?
Answer: Yes, a tankless water heater may pile up mineral build-up and erode the walls inside your tank's heating unit. It is equally essential for proper care and maintenance to flush those minerals deposits at least once a year. 
Question: How often does a tankless heater need to be serviced?
Answer:  At least make sure you do it every six months. Tankless water maintenance is a vital and must-do activity at least once a year if your water is subjected to temperatures or if you have hard water.
Question: What happens if you fail to flush your tankless water heater?
Answer: The mineral will accumulate and build up, then clog on within the chamber and prevent or hinder standard heating capacity. Consequently, your water may fluctuate and overheat the system and end up impacting its efficiency.
Question: Is an electrical or gas tankless water heater better?
Answer: Although gas tankless water heaters are particularly more efficient than their counterparts, their efficiency mainly goes up to 80-85%. Notably, most tankless water heaters are 98+% efficient. Even though natural gas is relatively cheaper than electricity per BTU  of power output, then benefits are overshadowed by other factors like higher efficiency of electrical unit, durability, and inexpensive to install 
Question: Will a gas tankless water heater work without electricity?
Answer: Tankless water heaters depend on electricity to run, meaning they can't do without it. The same case with natural gas and liquid propane tankless water heaters needs a source of electricity to function as they depend on a digital remote or pc to sense the water's flow rate.
Question: Should I unplug anything during a power outage?
Answer: We strongly advise that expensive electronics be unplugged during a power outage from the power source to protect them from a power surge when electricity is back and avoid blowing out of the electronic gadget. However, if you cannot unplug, electronics use the surge protector towards minimizing the occurrence and prevention of damage to electronics like computer television, etc. 
Conclusion
We have done our best to give the best Nortiz tankless water heater to help you make an informed decision. I hope you have learned a few things that will take you far towards choosing the right tankless water heater.
When we consider price, weather readiness, and ease of installation, then The NORITZ NRC66DV tankless water heater tops the list. It is a fully condensed tankless water heater with an advanced heat exchanger made and a built-in controller. It delivers the highest rate in its category with a flow rate of up to 6.5 gallons of water per minute, and you can vent it using 3″ schedule 40/8 PVC, PP, or CPVC.
NORITZ NRC66DV is also made with adapters and termination purposely to offer a wide range of venting options. The designer will ship for you with a 6″ power cord and then buy the IK-WV-200-1-XX-LF valve kit separately.